I've been waxing philosophical chocoholical lately, as you can tell. It may be cliché, and it may be expected, but when Valentine's day rolls around I'm in a complete chocolate state of mind. And why not? Chocolate supposedly mimics the feeling of falling in love via some crazy stimulant that gets released into our bloodstream after eating it.
I always like to plan ahead and prepare early, but this recipe requires little of that. It's great for those of you who have little time to bake or fuss over a special occasion dessert.
First, I'd like to talk about making the chocolate vessel. It is SO easy and fun. You'll need to buy a pack of water bomb balloons (some of you may know where I'm going with this) or if you can't find this small variety, any balloon 5″ or less with do nicely.
To prepare, you should have a few balloons blown up and resting on a clean surface. Balloons can be full of static, and are prone to pick up any stray fiber, hair, or particle on a seemingly dust-free surface. I gave both my table and platter a good wipe-down with a damp cloth. Lay out a large piece of parchment for the dipped balloons.
I used a small bag of Ghiradelli semi-sweet baking chips, melted in the microwave at 30 second intervals. You'll want to be careful to not overheat your chocolate, or the completed cups will develop a chalky white film in the drying process. My advice would be to stir very well between heating intervals.
You can also melt your chocolate in a saucepan on top of the stove on the lowest heat possible. This takes a bit longer, but your chocolate is less likely to develop the chalky white film.
Transfer chocolate to a small bowl. Your chocolate should not be hot. If you find that it is hot, let it cool slightly. Dip bottom of balloon into the melted chocolate and transfer to a piece of parchment paper. Continue to dip balloons until all chocolate is used.
Allow to dry for approximately 20 minutes. You'll know it's ready when the previously glossy chocolate coating has taken on a matte finish.
Now for the fun part. After the chocolate has set, carefully cut the balloon at the top just below the knot. Allow the air to escape slowly. The balloon will pull away from the chocolate and leave a beautiful cup!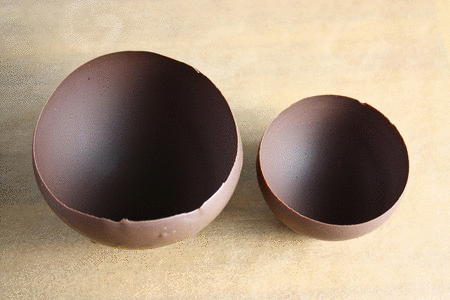 Occasionally you may experience a sticky balloon that doesn't want to let go of the chocolate. If this happens, then imagine your vessel as a clock, and gently pull the balloon away at 12:00, 3:00, 6:00 and 9:00. Pull from the knot upward. Your balloon should release.
Now you can fill them with anything your heart desires. My heart desired some Chai Latte whipped creme. This is very simple to make. All you need is some heavy whipping cream, dry, instant Chai mix and a little sugar.
I made some of the vessels into teacups (see above). For the handle, just pipe some melted chocolate into a small candy-cane shape and allow to dry. The handle can be adhered with additional melted chocolate.
I don't think I've ever had so much fun playing with chocolate. I think this would be a great recipe to make with the kiddos, especially since the chocolate doesn't get too hot. It's almost magical when the balloon pops and you are left with a perfect chocolate bowl. I think I may use my leftover bowls for ice cream, or perhaps a fruit and cream parfait.
Until next time!