St. Patrick's Day always brings fond memories of the trip my husband and I took a few years ago, surprisingly not to Ireland, but to Scotland. I was in awe of the green landscape, the castles, and the odd way the frequent drizzling rain made the scenery look even more beautiful.
My favorite part of the trip was our venture to the Isle of Iona. It's an isolated community that is accessible only by ferry, and holds ancient ruins and burial grounds of Scottish kings. I was enamored with the Celtic engravings and relief work upon many of the old artifacts. They were all so intricate. And incredibly beautiful, of course.
(photo from our trip, Isle of Iona)
For this year's festivities, I've decided to replicate a simple celtic knot into cookie form. It's easier than it looks!
The dough is made from very simple, humble ingredients. The graham flour gives it a graham-cracker flavor and the finished cookie is delicious with strong coffee.
The dough will need to chill for several hours, preferably overnight. When ready to assemble, lay out a piece of parchment paper on a cookie sheet. You'll pinch off pieces of dough and roll them into long, thin, snake-like segments. Working on the parchment, you'll start with the middle of your "snake" and make (for lack of better word ) a frown with your dough.
The frown…
…bring one side up…
…and then the other.
Pinch the ends of the loops into points. You now have a basic Celtic trinity knot.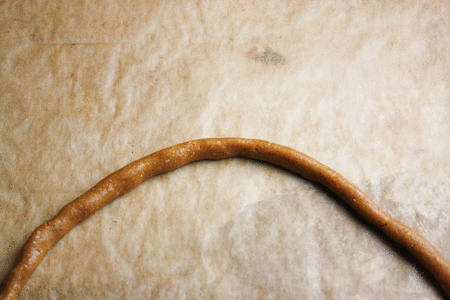 You can go a step further, if you like, and place a circle on top of the finished trinity knot.
There are many interpretations of this symbol. The most widely recognized seems to be the Holy Trinity of the Father, Son and Holy Spirit. I've also recently read about a mind/body/spirit interpretation too.
If you have a little trouble getting your trinity knots even, you can make yourself a template to place beneath the parchment paper you are working on.
I used a sheet of copy paper, held it to the computer monitor over the desired image, and lightly traced.
My cookies baked perfectly in 12 minutes. I like them sprinkled with a little powdered sugar.

This dough rolls pretty easily, and if your "snakes" happen to break apart they are easily stuck right back together. You might want to enlist a helper if you plan on making the entire batch into Celtic knots. It's a little time consuming, but very fun. You can also use this recipe as a simple roll-out dough for use with cookie cutters.
Maybe someday we'll get to journey back to Scotland. It was such a special trip and I fell in love with the landscape.
I'm cooking up more St. Paddy's day recipes, so I'll be back soon!
With Love,